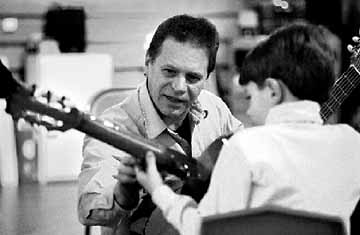 Parents share in the experience of guitar lessons
Six-year-old Erik Loran has learned a lot during his first month of guitar lessons.
But not as much as his dad, Todd.
"I can play songs now," Todd Loran says with a smile. "And I practice with him all the time because I have to stay one step ahead."
Involving parents in their children's lessons is one of the unique techniques employed by the Childbloom Guitar Program, designed to teach kids between the ages of 5 and 12 how to play the guitar.
"One of the big differences in this program is the amount of parental involvement," said Jerry George, a Missoula musician and the director of Montana's first Childbloom Guitar school. "Children learn faster and are more attentive because they really want to please their parents.
"The parents don't have to be musical," George said. "And instead of sending kids off to their rooms to practice by themselves, they practice with their parents."
George, who has taught guitar for 15 years and lived in Missoula for three, said he heard about the program last summer through an advertisement in a music magazine.
"I didn't know it even existed. … It looked so intriguing I had to find out more," George said. "The ad said they were looking for classically trained guitarists with education backgrounds."
George, who majored in education in college, looked into the program. He found out Childbloom was developed about 18 years ago by Kevin Taylor, a music instructor at Southwestern University in Georgetown, Texas. Today, some 20 Childbloom franchises exist across the nation.
After traveling to Texas in October to take part in a one-week training session conducted by Taylor, George purchased a franchise and opened his own Childbloom Guitar school in a studio in the Warehouse Mall on West Alder Street.
"As with any new thing, I was a little bit nervous," George said. "But after my first day down there, I knew it was right for me. I felt Missoula was the kind of community where this would work."
Along with involving parents from the beginning, the Childbloom system also encourages children to play songs right from the start. It also allows kids to learn on smaller guitars and work in class with other kids of similar ages and skill levels.
George said the Childbloom program combines child psychology with established methods of teaching music. Unlike other music programs, children do not learn how to read music until they are familiar with the guitar.
"First of all, they're having more fun and playing songs right away. They gain a lot of confidence," George said. "When they're more comfortable with the guitar, then they learn how to read music. That way it's not so scary."
George said the half-size and three-quarter-size instruments used by the children in the program also make it easier for them to learn.
"It's important for the development of the wrist," he said. "You don't want to have them reach too far. If they use the correct-size instrument, it's much better for them."
So far, five children have paid the $20 per family enrollment fee to take part in George's program. After enrolling, students are billed $48 per month. The fee includes a 30-minute lesson each week, a compact disc or cassette used for practice at home and other literature and newsletters relating to the Childbloom program.
During lessons, which are given to no more than four children at once, George bounces back and forth between pupils, helping them sound out songs and get the rhythm down.
"This is a nice low-key, relaxed approach. Jerry's not intimidating at all," said Todd Loran, as his son, Erik, wrapped up his lesson earlier this week. "When I was a kid, I took piano lessons from the nuns and they would crack you on the hands if you didn't do as you were told."
Mikela Rigney, a 9-year-old Lewis and Clark third-grader, said she has wanted to play the guitar since she "was a little girl" because she wants to be able to play country music. Mikela said she has learned quite a bit in the month she has spent in the Childbloom program.
"I've learned there are different frets," Mikela said
. "And different frets make different sounds."
Mikela's mother, Patty Rigney also said she's learned a lot.
"I like it because we get to take CDs home to practice with," Patty Rigney said. "That way I can try to keep up with what she's learning."
Saturday - 19/26/98