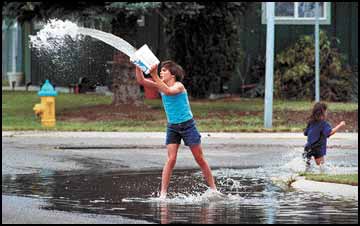 DUI suspect chooses plunge over breath test
BILLINGS - Police investigating a report of a drunken driver early Monday watched as the suspect drove his car over the Rimrocks above the city, rather than take a breath test.
Jason Mize 19, was hospitalized in satisfactory condition with a broken pelvis, broken arm and broken shoulder after he drove his car off the 100-foot cliff, Billings police said.
Police Sgt. Mark Kirkpatrick said an officer spotted the car Mize was driving parked on Black Otter Trail at about 2:40 a.m. Monday. When the officer asked Mize to get out of the vehicle, he rolled up the window, locked the door and drove about 50 feet over the edge of the cliff.
Billings Fire Department crews worked for two hours to free Mize from his totaled car.
Wreck near Conrad kills two teen-agers
A carload of teen-agers went out of control on a frontage road north of Conrad and rolled Sunday, killing the driver and a passenger and injuring two other passengers, the Montana Highway Patrol said.
In a separate crash near Wyola on Sunday evening, one person died and six others were injured when a pickup truck missed a curve, crashed into a tree and landed on its top in a creek bottom.
The two crashes bring Montana's highway fatality toll to 108, compared with 123 on the same date a year ago.
The patrol identified the dead in the Conrad crash as William Anderson, 15, of Conrad, who was driving, and Brittney Gentry, 16, of Valier.
Injured in the crash were James Maxwell and Jason Spurlock, both 14. Their hometowns were not immediately available. Maxwell was listed in critical condition at a Great Falls hospital and Spurlock suffered only minor injuries, the patrol said. All four were thrown from the car as it rolled.
The names of the dead and injured in the Wyola crash were not immediately available.
Missoula woman faces charge in fatal crash
HELENA - Lewis and Clark County prosecutors on Monday charged a Missoula woman with negligent homicide for the death of a Helena man in a one-car rollover.
Kimberly Watne, 20, also was charged with felony negligent vehicular assault and misdemeanor negligent vehicular assault for injuries to other passengers, said County Attorney Leo Gallagher.
Prosecutors said Watne had been drinking when she drove off the Canyon Ferry Road on July 8. The vehicle rolled twice down a 35-foot embankment, killing Brandon Kincaid, 19.
Investigators said excessive speed and alcohol were factors in the crash that also injured Jennifer Masson of Helena and Beau Newell of Missoula.
Prosecutors did not disclose Watne's blood alcohol level. It is a violation of state law for anyone under the age of 21 to drive with a blood alcohol level over 0.02.
Watne's first appearance in Justice Court is set for Aug. 10.