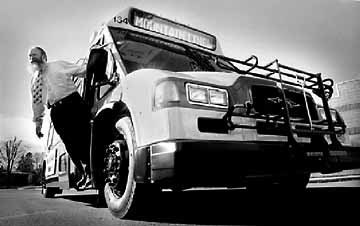 General manager hopes innovations will boost ridershipA while back, Steve Earle found himself snowbound for 10 hours in the Denver airport, waiting for a plane. So he did what he's best at: He hopped a bus.
"People were asking us, 'Where are you going?' " Earle recalled. "My wife yelled back, 'My husband knows how to read a bus schedule.' Thirty people got on that bus to downtown Denver with us, and they all got back to make their planes."
The Mountain Line general manager is trying to build that same confidence in the potential riders here. From adding five new Day-Glo bright buses to the routes to building a new transit center at the former Fire Station No. 1 on Pine Street, Missoula's bus system is trying to get more folks on board.
The new buses run on routes 2 (Travois Village-Reserve Street), 5 (Rattlesnake), 6 (South Higgins-Kmart) and 7 (Southgate Mall-Orange Street). They're a 4-foot-longer version of the Orion mid-sized buses that cruise around town. But their fuchsia grills and doors, yellow hoods and teal bodies make them more than distinctive.
"We came up with this color scheme with one thing in mind," Earle said. "Make it eye-catching. We want to get people's attention."
The interiors are different, too. The seats have thick pads and the extra 4 feet make room for two wheelchairs instead of one. And the bulge on the roof conceals an air-conditioning unit - something no other Mountain Line buses have had to date.
The trick now is parlaying these changes into increased ridership. The number of people riding the buses has steadily increased, from 465,383 in 1970 to 651,489 in 1998. But it's still not at a level the system's board of directors would like. Earle said there are two main obstacles: The ease of driving in Missoula and the difficulty of understanding a bus system - any bus system.
"It's too easy to drive, too easy to find a parking place here," Earle said. "If we were having this interview in downtown Seattle, you'd have taken a bus because there's no way both of you (reporter and photographer) could have found a parking space. And one of you would probably have gotten stuck in traffic."
Reaching into a desk drawer, Earle pulled out a handful of bus schedules from cities he's visited. From 3 feet away, they all looked the same.
"Most of the time, people don't have 10 minutes to figure out how to get from point A to point B," Earle said. "But once you understand time points and routes, that knowledge is universal. Everyone else does it the same way."
To confront that problem, Mountain Line is working on a program to send "bus mentors" to interested businesses, senior citizen gatherings and other organizations. There, people can learn which routes cover their area and how to make connections to reach favorite destinations.
Mountain Line also will challenge people's assumptions about the affordability of riding a bus. Fares today are 85 cents, up from 25 cents in 1978. While a car getting 30 miles to the gallon could go about 25 miles for the same bus fare, Earle suggests some other costs to consider.
Anyone who gets reimbursed for driving on the job knows the federal mileage rate is 31 cents a mile. So a three-mile trip would pay for the bus fare. And, downtown drivers have to add in parking fees of at least 20 cents for an hour's shopping or visiting. That brings the trip cost to $1.13, or about 33 percent more than an 85-cent bus ride.
Earle credited former Mountain Line manager Sally Mullen with getting the bus service on a strong footing after some years of stalled activity. She did much of the preparation for the Pine Street transfer center, which will offer riders indoor and outdoor sheltered waiting areas, restrooms and a concession stand. The center should be open by October.
Earle said Mullen also was responsible for a great improvement in working relations among the Mountain Line personnel. He joined the system in 1989 as a mechanic and worked his way through the ranks to director of maintenance and operations before replacing Mullen last fall. Mullen cited personal reasons for her departure and moved to Billing
"It's really changed to a place based on commitment instead of compliance," Earle said. "I've had to learn to walk away from the maintenance shop and give those people a chance to succeed on their own."