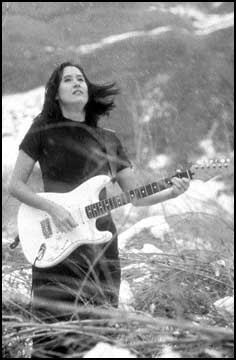 If there's one thing Ms. Jones absolutely hates to be, it's the bearer of bad news - especially in this case, when the news stands to so affect the Fun Scene in Missoula so adversely. But, since ignoring the truth won't change it, Ms. Jones will take a deep breath now and give you what we call in the business The Scoop.
The owners of the Blue Heron are bailing out. Andre Floyd, the musician-turned-promoter for the fledgling club, is leaving as of this week. The future of Missoula's premier nightclub and the fabulous Steelhead Grill are up in the air.
Owners Kevin Head and Brad Martens, who also own the Rhino bar, plan to put the Heron building, which formerly housed the Moose Lodge, up for sale, Head told Ms. Jones last week. The reason, according to Mr. Head: The duo simply couldn't make money off the 2-year-old club, in part because of the lack of a liquor license. Being able to sell only wine and beer makes a $3,000 night out of a potential $6,000 night, Mr. Head says. What's more, the smallish Missoula market hasn't proved able to support a stream of concerts bearing ticket prices of $10, $15 and more, he said. A case in point was last week's Mose Allison concert, featuring one of the best performances Missoula has seen by a Grammy-nominated jazz legend: The turnout, although healthy, didn't fill the room, while a few days later more than 1,000 people turned out for a Missoula Osprey game. (Yet the stands at the American Legion field could have held several times that number, leading Ms. Jones to ask - again - why we need a new baseball field by the river. What will we do with it when the Arizona Diamondbacks leave town because the fans aren't filling it?
As for Mr. Floyd, he'll leave the Heron's employ as of Aug. 20, when Michelle Shocked belts her final notes into the microphone. Bringing good music to Missoula, however, is still at the top of his "to do" list, starting with a Charlie Musselwhite concert at the Elks Lodge Aug. 21. And, of course, there's always his band, one of the best blues acts in Missoula, bar none - no pun intended.
Thursday, Aug. 15
She sings like there's no tomorrow, shouting and shaking her shaggy hair and closing her eyes and fingering those guitar strings into a blur of Texas-blues. She's Carolyn Wonderland from Austin, and she and her Imperial Monkeys wowed a crowd into a stripping good time a few weeks ago in the Top Hat. Missed her? Here's good news: She's back for another must-see good time that's sure to include Ms. Jones on the dance floor (fully clothed, however). See you there.
Friday, Aug. 16
Middle Eastern meets "whiskey folk" in a double-header musical lineup at the Top Hat. At 7 p.m., see the dancing and hear the exotic sounds of Brothers of the Baladi, on tour to promote a new CD with Middle Eastern and world-infected rock only darbuka, riq, mezhar, davul and def could produce in conjunction with guitar, bass, keyboards and drums. At 10:30 or so, Colorado acoustic trio Single Malt Band takes the stage with music influenced by Celtic, bluegrass and folk. Guests at the 2002 Telluride Bluegrass Festival, these guys have been known to jam 'till dawn, so drink some coffee and get yer boots on and head on out for a stompin' good time.
Sunday, Aug. 18
They've got a very tasty name and a sound as sweet as dessert: Hot Club Sandwich offers a sound reminiscent of the hot jazz string bands of the early 20th century via a violin, three guitars, a manolin and an upright bass. Their music comprises "gypsy swing" by the likes of Django Reinhardt and Stephane Grappelli's Quintette de Hot Club de France, as well as big band standards, valse musettes, Brazilian choros, gypsy folk songs and original music. They're at the Top Hat for an as-yet-undetermined cover charge.
Tuesday, Aug. 20
Michelle Shocked used to have a different last name, but she might not remember it because when she was a girl her abusive mother had her (wrongfully) locked up in an insane asylum where she was forced to endure - you guessed it! - electric shock "therapy." Today she calls herself "Shocked" and the rest of us call her brilliant. The East Texas blues/grit folker belts out songs of passion and pain, of heartache and wry, songs such as "If Love Was a Train" that have sold 1.5 million albums. She's a gutsy, savvy woman who lost her recording contract with Mercury because she negotiated herself too good a deal. Now she has a new label - Mighty Sound - and her first CD since 1994, "Deep Natural," described as "swirling, gritty blues grooves against good-rocking gospel and free-floating sounds of dub." She's at the Blue Heron to give one of her legendary kick-in-the-pants live shows, and you just know, savvy reader, you've got to be there.