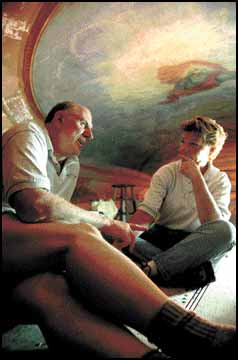 Following is the Missoula Area National Forest/Bureau of Land Management weekly recreation update as compiled by the Missoula Ranger District.
Personal-use mushroom permits can be acquired at the Missoula, Ninemile, Superior and Plains ranger district offices, Monday-Friday, 8 a.m.-4:30 p.m.
Missoula Ranger District, 329-3814: The Missoula County Road Department is working on Blue Mountain Road from the main Blue Mountain Trailhead to Maclay Flat. Rock Creek campgrounds are open with full services and a $5/night fee. Lee Creek and Lewis and Clark campgrounds are open with full services with a $10/night fee. Be careful on Rock Creek Road due to heavy fishing traffic.
Seeley Lake Ranger District, (406) 677-2233: All campgrounds are open with services (water/garbage) and charging fees. Interpretive programs have begun for the season and are held on most Wednesday and Friday evenings throughout the summer at one of the four Forest Service campgrounds on the district. For a schedule, call the ranger station or look for postings in the campgrounds.
Ninemile Ranger District, (406) 626-5201: Mushroom hunters are in the Upper Ninemile Valley. Exercise caution on the Ninemile and Foothills roads due to high vehicle traffic. The Historic Ninemile Remount Depot Visitors Center is open 9 a.m.-5 p.m. All district campgrounds and trailheads are now open. The Schley Mountain Trailhead gate is open. For information on road and trail conditions, call the district.
Superior Ranger District, (406) 822-4233: All district campgrounds are open and the following trails have been cleared and are open: Heart Lake Trail No. 171, Crystal Lake Trail No. 269, Diamond Lake Road No. 7843, Moore Lake Road No. 221, South Fork Little Joe and St. Regis Trail No. 267. For more information on trails and road conditions, contact the district. The Hiawatha Bike and Hike Trail is open with a new parking lot at Taft Exit No. 5. Shuttles will run between Lookout Pass and the bottom of trail throughout the day. For more information about the Hiawatha Trail, check out the Web site at www.silvercountry.com/hiawatha_rout.
Plains/Thompson Falls Ranger District, (406) 826-3821: All developed campgrounds on the district are open. The Bend Ranger Station cabin rental facility is available for reservations.
SMOKEJUMPERS VISITOR CENTER
Aerial Fire Depot (406) 329-4934: The Smokejumpers Visitors Center is open 8:30 a.m.-5 p.m., through Labor Day with tours at 10 and 11 a.m. and 2, 3 and 4 p.m. Call to schedule group tours.
BUREAU OF LAND MANAGEMENT
Missoula Field Office: (406) 329-3914: Whitaker Bridge, located six miles upstream from Johnsrud Campground, is open. The Visitor Center in Garnet is open seven days a week from 10 a.m.-5:30 p.m. Fee is $2 per person, under 12 free. For information regarding Garnet, see the Web page at garnetghosttown.org.
Lochsa Ranger District, Powell Office: (208) 942-3113: Lolo Pass Visitor Center is closed for remodeling. All campgrounds are open with limited services.
BITTERROOT NATIONAL FOREST
Hamilton (406) 363-7100; Stevensville (406) 777-5461; Darby (406) 821-3913; Sula (406) 821-3201; West Fork (406) 821-3269: Recreation Web site: www.fs.fed.us/r1/bitterroot. Summer cabin rentals are available; call districts to make reservations. The Darby Historical Visitor Center is open Monday-Saturday, 8:30-4:30 p.m. and Sunday from 12:30-4:30 p.m. Recreational-use mushroom permits are available at all districts; however, commercial mushroom permits are available only from the Darby Ranger District. Most campgrounds are open with services at this time (call districts for specific details). Construction is being done on the road between Wood Creek Pass and Horse Creek Pass. Highway 38 (the Skalkaho Highway) is open. Indian Trees Campground is closed due to construction. Season passes for Lake Como are $20; day passes are $2.
Swan Lake Ranger District: (406)837-7500: Due to facility reconstruction Holland Lake Campground will be closed for the duration of the 2001 summer season. Boat launch and day-use areas will be open on an intermittent base. For further information, call the district.