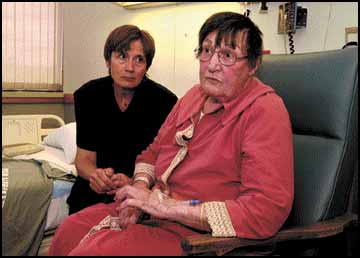 "The Score" with Robert DeNiro, Edward Norton, Marlon Brando, Angela Bassett, Gary Farmer. Directed by Frank Oz. Screenplay by Kario Salem and Lem Dobbs and Scott Marshall Smith. Story by Salem and Daniel E. Taylor. Rated R, contains strong language. In Missoula (Carmike). 123 minutes. Two and one-half stars
After a long and successful career as a comedy director and as the indispensable voices of Miss Piggy and Grover, among other Muppets, Frank Oz turns to suspense and drama with "The Score," a story of a practiced expert thief (Robert DeNiro) who can't resist one last big heist, even though it means working with a hotshot upstart (Edward Norton).
The characters live in a beautiful Montreal where Nick has a comfortable life as a jazz club owner, lives in a superb apartment and connects on layovers with Angela Bassett as a flight attendant. His alter ego, the thief, answers to Marlon Brando, who gives him word of a big, big job in the customs house. If he'll only steal this precious scepter, he can have $6 million and be free of this criminal life forever. Nick is torn because his girlfriend has asked him to give up crime, right this minute, and he wants to, he really, really wants to, just after this one last job, one last job.
"The Score" is a movie of concentrated character performances, of course, as anyone would expect with a cast that includes DeNiro, Brando and Edward Norton as the youthful burglar. Howard Shore has written a great score that is haunting and moody and filled with good jazz. Cinematographer Rob Hahn films almost all the days as if they're nights, creeps around in the underground jazz clubs, makes a visual masterpiece of the damp subterranean tunnels beneath the customs house where Nick spends a lot of time scoping out the building, searching for way in. This movie has a lot of talent behind it, but it is not quite serious enough, not truly gripping, and if you know one of Oz's best movies, "Dirty Rotten Scoundrels," you'll figure out the plot in about half an hour.
The best moments depend on the actors. Norton is an astonishing quick-change artist who can shift seamlessly between the arrogant, cool-minded criminal and the young mentally handicapped janitor he pretends to be as a way to penetrate the customs house. Brando and DeNiro have wonderful if odd business together, chatting over the details of the heist. They both seem about to burst into hysterics any moment, their real selves bubbling up under the surface of their performances. This might pull you out of the picture a bit, but it's fun to watch.
Angela Bassett is asked to be nothing more than a simmering sexpot, which she can certainly do, but her part is thin, her scenes lacking in depth or story-telling, and we wonder why she would take the part. She does spring the movie's only philosophical question, pointing out Nick's true addiction to this dangerous life.
Oz works hard at atmosphere - the jazz, French Canada, the blinds pulled against the day - so that "The Score" feels like a real movie. But its tricks are way too visible, its clues to the con planted like Easter eggs for preschoolers, and the effects are never surprising.