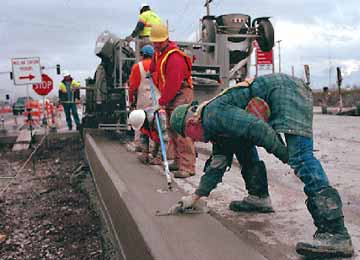 'If you're not convenient, people don't stop. When they took away our entrance, it virtually stranded us here'- Tom Schmidt, part owner of the Mullan StationAlthough Reserve Street's overhaul won't be finished by its Nov. 15 target, contractors expect four-lane traffic and the Mullan Road intersection to open in the next two weeks.
"As it stands right now we will have four lanes by Thanksgiving," said Russ Gaub, project manager for Morrison-Knudsen Corp., the state Department of Transportation's contractor for the project.
And that's none too early for some Reserve Street business owners whose customers have been scared off by the torn-up thoroughfare.
"The day they started, business dropped," said Julie Petrou, owner of Greek Gyros and Pastries Too in Northgate Plaza on the corner of Reserve and Mullan.
By measuring daily deposits against monthly sales since the restaurant opened in 1995, Petrou estimates a 10 to 15 percent daily loss since construction began in August.
"We had no clue, absolutely no hint that Mullan would be closed at the same time," she said. "I can't blame the state for the whole thing, but two main thoroughfares have been shut down. By the skin of our teeth, we've been getting by."
The $11.8 million project won't be completed until next spring, Gaub said. Early-spring weather problems and delays with subcontractors held up some of the work, and a rushed timetable was too ambitious, he said.
"This is a two-year project and we elected to do it in one year," Gaub said. "We tried and we fell short."
The contractor's missed deadline will cost the company its financial incentive to finish the project - a $250,000 bonus from the state transportation department.
"Right now we aren't going to get any of it - maybe a percentage of it - that's something the state will have to determine," he said.
Gaub and state transportation officials will discuss the bonus Monday.
Detail work, such as pouring concrete for medians, bridge lanes, and entryways to businesses and crossroads, will be finished next year. Gaub said work crews will be busy the next couple of weeks filling in the 4-inch deep gaps between the street and driveways with asphalt.
"Based on the original schedule, the contractor is not where he would have liked to be," said Martin Van Mil, district construction engineer for DOT. "But it doesn't mean we will quit working. We'll work as long as the weather allows."
You have free articles remaining.
Regardless, Gaub said, he is pleased with the amount of work his crews have completed on the 3.5-mile stretch from South Third Street to Interstate 90.
"I think people should be happy with the progress we've made," he said.
Like Petrou, other business owners have been frustrated by the project's slow progress.
"There was a total of about 14 days when I was totally blocked off," said Ron VanderVeen, owner of Chalet Jewelers. "One guy hoofed over from Fuddruckers through a wheat field to buy an engagement ring. I've also had customers who parked at Karl Tyler and took their chances crossing traffic."
Because he's been in the same location for 20 years, selling the same product, VanderVeen has weathered the upheaval fairly well.
"During the summer, tourists are our biggest customers and some shop specifically for our product. Tourists find their way, that's what saved us," he said. "I don't think I've been as heavily impacted as new businesses."
One business, Cellular One in the Grant Creek Plaza (on the west side of Reserve, across the street from Karl Tyler Chevrolet) scheduled its grand opening Oct. 15 and experienced a dismal turnout.
"I have customers who won't come here. I've been referring customers to our Brooks Street office," said Kathleen Springer, senior retail sales representative. "If they had done it in small sections - but it is going on and on and on, they are just finishing our entrance."
Tom Schmidt, part owner of the Mullan Station, a new business on the corner of Mullan and Reserve, said he too has been frustrated by the construction.
His kiosk has read "Please open our road" for the last 10 days.
"If you're not convenient, people don't stop. When they took away our entrance, it virtually stranded us here," Schmidt said.
>He's concerned the construction delays have forced people to find other paths for getting across town.
"Just opening the street won't do it. Our customers have to be convinced Reserve Street will stay open," he said. "I'm very skeptical."
"We made a promise to business owners to be opened by Thanksgiving, and we're going to be close," said John McKinney, the DOT project manager. "For what we've had to put people through, they've been excellent."
"When people start using it, you'll see a lot of traffic all over town flowing better," said Jim Weaver, DOT district administrator. "It will solve a traffic bottleneck."