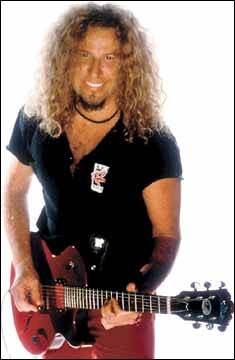 Post-Van Halen Hagar is having the time of his life, making both hot music and his own tequila
Sammy Hagar is a rock'n'roll party animal. In case people forget this, he is bringing the party that is his life to Missoula for a one-night stand at Caras Park.
"I love to have fun," Hagar says from his Bay Area home. "I refuse to do anything that isn't fun."
What is fun for Sammy is to bring a party with him while on tour. He is coming to Missoula with a stage set that looks just like the barroom of the famous Cabo Wabo Cantina, a tequila joint Hagar owns in Cabo San Lucas, Mexico. Complete with waitresses, decor, and seating for 40 lucky fans, this set allows Hagar to feel right at home everywhere he goes.
"We just have a big party up on stage," Hagar says. "I've been doing this touring thing for a long time, and I always have to do something fresh and new in order to be sparked. I'd get bored if I had a set list that I played every night. With the party on stage, I can just go with the evening and see where it takes me. Plus, I love having a waitress bring me an icy margarita before my next song."
Best known, perhaps, for his 11 years as front-man for one of America's biggest heavy-rock band, Van Halen, Hagar has a long history of living large. Born in southern California, Hagar embraced the party lifestyle, surfing and getting into bars at a ridiculously early age. He was a "greaser, low-rider" kind of guy, a surf bum, and a guitar-playing hippie before he discovered honest rock'n'roll.
Hagar burst onto the music scene when he sang for Montrose, a quick band out of California in the early 70s. He went on to a solo career after Montrose fell apart, releasing his first solo album, "Nine On A Ten Scale," in 1976. Over the next five years, Hagar released five more albums, touring constantly, which solidified his reputation as one of the greatest live performers in the business.
"Those were great years, just putting out my own music, living large, enjoying the fame," Hagar says. "That was when I realized I didn't have to do anything that was work, I could just do what was enjoyable to me."
The nickname "Red Rocker" started popping up during these years.
"I've always been a red freak," Hagar says. "Then one day a journalist in a Vancouver paper called me the Red Rocker in his review of the show, and fans brought the paper to me the next morning to sign. I signed it `the Red Rocker,' and now that name follows me wherever I go. People shout it at me from their cars."
In 1984 Hagar did a nationwide tour that saw him playing in front of sold-out arena crowds. Performing in a signature red-and-yellow jumpsuit, Hagar played crowd favorites such as "Can't Drive 55," "There's Only One Way to Rock" and "Give to Live." After this exhausting tour, Hagar retreated to his San Francisco home where he hoped to rest, play in the mountains and plan his next album. A phone call from Eddie Van Halen with an invitation to jam with Eddie's band changed those plans.
"It blew my mind," Sammy says about the first time he played with Van Halen. "We got together and we jammed and it was really, really good. It turned my head around, and I said, `I'll join this band right away.' "
With Hagar on vocals and writing most of the lyrics, Van Halen went on to record their first #1 album, "5150." They followed this up with "OU812," "For Unlawful Carnal Knowledge" and "Balance." During these 10 years the band sold tons of records, sold out arena shows and maintained their reputation as true rock'n'rollers, coasting through the alternative and grunge crazes unscathed.
"I think Eddie and I, as song writers, were the greatest songwriters of that time," Sammy says. "We put out songs that have stood, and will stand, the true test of time."
Hagar intended to end his career with Van Halen. Yet, when their longtime manager Ed Leffler died in 1993, the buffer that had been smoothing things out between various band members was gone, and friction arose. Reports in the press circled about Eddie Van Halen's anger at Hagar for grabbing the spotlight and partying too hard (similar reports swirled before David Lee Roth's departure).
did not quit the band," Sammy says about the breakup. "They wanted me to do a greatest hits record, which I thought was crap. To take and put only two new songs on a record and make fans buy a bunch of old songs that they already own is unfair to fans, I thought. But then they went behind my back and recorded David Lee Roth on a couple songs."
"It was like finding your old lady in bed with her old boyfriend, when that happened," Hagar says. In 1996, Hagar released a press statement that said he was severing all ties with the band due to creative differences.
Since then, Sammy has been having a great time on his own. He mountain bikes a lot ("I damn near invented mountain biking. I live near Gary Fisher and Steve Potts and we used to jam up the mountain with these old fat tire bikes that we put gears on. I ended up buying a bike store just to have a shop at my disposal that I could make bikes out of."), works on marketing his own brand of tequila ("My tequila brand is so on fire I can't keep up with it. Right now I am 7,000 cases backlogged, but I refuse to make it quicker to fill orders because it is so damn good. I refuse to change the way it is made."), and records music.
Hagar's latest release is the hard rocking album "Red Voodoo," recorded with his band, the Waboritas. He says he will bring songs to Missoula not just from the new album (although he will almost definitely play the party anthem "Mas Tequila"), but from all stages of his musical career. Whatever he plays, expect the onstage margaritas to keep flowing and the party to keep moving.
"It'll be very theatrical," Hagar promises. "And if someone's up there snoozing, I'll throw them out and grab someone else from the audience."