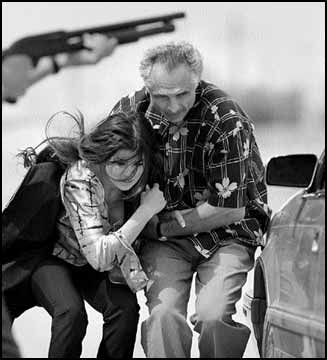 North by Northwest wants first big money-maker
SPOKANE - Rich Cowan makes movies far from the glitter of Hollywood.
His Spokane-based North by Northwest Productions is making its 13th movie, an action-comedy in which the streets of this town natives call "Slo-kane" stand in for New York City.
"This is not the typical Hollywood model," Cowan said of the company, which he called unique in the Northwest for its ability to handle all aspects of film production.
"Wet Work," its latest movie, is being shot over 18 hurried days at locations all over town. The title is mob slang for an execution.
It stars Carmen Electra - formerly Mrs. Dennis Rodman - plus Judge Reinhold and Patrick Muldoon. With a budget of just $1.6 million, Cowan couldn't afford the likes of Julia Roberts or Mel Gibson.
And the grosses of the company's films are no threat to "Titanic."
But Northwest by Northwest is becoming comfortable in the movie business.
The company recently closed a key deal with EuroArts Medien AG, a German company that handles movie financing and distribution, that will free North by Northwest to concentrate on making movies, said Cowan, president of the film division.
The goal, of course, to make the next "Blair Witch Project," a legendary low-budget movie that made a fortune a couple of years ago. North by Northwest films such as "The Last Game," "Vegas Vice," or "Matter of Trust" have not followed suit.
"You've got to be real lucky and real good," Cowan said. "You've got to hit at the right time, with a clever marketing approach … or have a star who is up and coming."
With famous actors in short supply in the Spokane area, North by Northwest depends on casting companies in Los Angeles to find its talent.
"You get the best people you can for the lowest amount of money," Cowan said.
Electra, 29, who used to fill out one of the red swimsuits on "Baywatch," will be here for six hurried days of shooting. Reinhold was in the "Beverly Hills Cop" movies. Muldoon was on "Melrose Place."
North by Northwest occupies all three floors of the former Spokane Brewing Co. building in the downtown area.
The building is stuffed with
$3 million worth of hardware that enables the company to handle nearly all aspects of production, including filming, editing, sound, graphics and some special effects.
That's unusual in a business where many production companies are simply offices that hire specialized providers for all technical work, Cowan said.
"Producers in L.A. are blown away by what we've got," he said.
North by Northwest began as an advertising and public-relations agency, and it still makes commercials for clients all over the country, taking jobs ranging from $1,000 to $100,000, Cowan said. The company also makes corporate videos for big companies.
The company's best known film is "The Basket," a $3.3 million drama released last year. The film, set in 1918, was shot in the Spokane area and involved opera, basketball and anti-German prejudice. It starred Karen Allen from "Raiders of the Lost Ark" and Peter Coyote from "ET." Cowan produced and directed the picture, which premiered at the Cannes Film Festival.
"The Basket" was well-reviewed and grossed $300,000 during a limited run in Spokane, Denver and Colorado Springs last year. It has been sold for distribution into 20 countries, and is being shown on long flights by 17 airlines, Cowan said.
"We'll make a major announcement soon on more domestic business," he said, declining to provide details.
A second family-oriented movie, "Mel," starred Ernest Borgnine, Julie Hagerty and a big turtle. It was directed by Joey Travolta, whose brother John has enjoyed some film success.
Spokane hasn't appeared much on the big screen, and that is one of the company's strengths, Cowan said.
The old brick buildings of downtown provide numerous urban settings, and there are forests, mountains, lakes, farmland and desert-like environments in close range, he said.
Despite its location far from the coastal culture of Seattle or Portland, North by Northwest is the most prolific film and video studio in the region, Cowan contends. The company employs 43 people at offices in Spokane and Boise.
On a recent workday, the building was hopping. Some employees edited a Blue Cross of Montana commercial. Others tinkered with a video for a church relief agency. One employee worked on graphics for a music video.
Others looked at film from the previous day's shooting on "Wet Work." The dailies show an actor shooting up a downtown bar, killing several people in slow-motion.
Cowan, 45, was born in Spokane, grew up in the Seattle area and then attended Washington State University in Pullman. He worked in television production in Spokane for a decade, until he felt he had peaked and would need to move to a larger city to advance that career.
"We didn't want to. We liked Spokane," Cowan said.
With a group of partners, he started North by Northwest in 1990. They picked the name because they liked the way it sounded, not because of the famous Alfred Hitchcock movie, he said.
Their first client was Washington Water Power, the big regional utility now known as Avista. They expanded into Boise in 1992 because the Boise-based Albertson's supermarket chain was a major client.
Six years ago, the partners took stock of their situation again and decided to move into motion picture production.
"We wanted to create a value in our product," Cowan said. "It helps the company if we have ownership in something.
At first they just billed themselves as a production company: "Give us a script, we'll take care of all the details," is how Cowan describes it.
Then they began taking part ownership in movies.
They graduated to full ownership with "The Basket."
Despite its subject matter, "Wet Work" will likely be a PG-13 film with plenty of humor, Cowan said.
"Our love is the family-type film," he said. "It's tricky, because you have to please a lot of people."