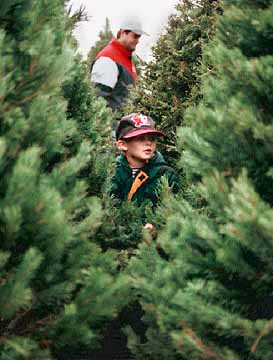 Kids know just the right one for Christmas
Despite his youth, Nicholas Ryan Swanson knows what he's looking for in a Christmas tree.
It has to smell good (like gum) and have lots of branches, the 4-year-old connoisseur said as he was inspecting a potential keeper at the Adams Christmas tree lot on Sunday.
And it has to be sturdy enough to hold the candy canes between now and Christmas.
"We're going to eat them off the tree after it's Christmas Eve!" he said gleefully, nearly jumping out of the arms of his father, Chad.
"I just want one that's going to fit in the corner of the apartment and has enough room at the bottom for all the presents," said his dad.
For 10-year-old Blaize Huntley and his golden retriever, Aspen, the task was to find a short but perfect tree.
"No Charlie Brown trees," Blaize said. Blaize said was shopping, with parents in tow, for a tree full enough to hang last year's "classical ornaments" and this year's hand-made ornaments from school.
Aspen, however, wasn't as particular about the choice as Blaize. But the enthusiastic pooch wiggled and wagged his tail whenever he was asked for an opinion.
At Adams Christmas tree lot in Rosauers parking lot and at Copenhaver's lot on Stephens Avenue across from 4 Seasons Subaru, choices abounded to fill most shoppers' criteria.
Scotch pines, white pines, Douglas firs, alpine firs, noble firs, grand firs and Fraser firs were some of the choices.
At Adams, the round-needle, brilliant-green noble firs had sold out. And the grand firs at Copenhaver's were finding new homes quickly.
"You see a broad spectrum of personalities and people here," said Steve Adams, who has been selling Christmas trees in Missoula for the past 17 years. "We get Garth Brooks to people who don't have a dime."
One of the more interesting customers Adams dealt with was, well, a tree hugger of sorts.
"I had a lady in here a few days ago dancing with a little tree, doing the "Jingle Bell Rock' with it," Adams said. "It was great. She'd already bought the tree and she danced with it all the way to her truck."
Spontaneous spurts of joy often occur at the tree lots, said Clay Copenhaver.
"It brings people together and gets them in the holiday mood," Copenhaver said. "With other businesses, everybody comes in with a problem, something broke or they're looking for something. When they come here they're having fun; they are out here to have fun."
Tuesday - 12/15/98