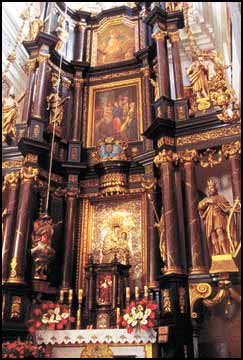 Night at Poverello shows ministry in tune with Christ's call
With nothing but a bedroll, two wrinkled dollar bills and a set of ear plugs, I navigate through the after work crowd downtown. Clothman, homeless in his hometown.
Is it my imagination, or are people looking at me differently? I feel they're labeling me as a deficit to society, not an asset. I hadn't thought about this aspect when I planned my overnight adventure at the homeless shelter. I doubt the people looking at me a bit sideways have thought about it either.
I nod greetings to the folks lingering outside the shelter. I've passed clients countless times as a volunteer and as a board member … sure feels different when they're going to be my roommates. The staff greet me warmer than most motels we stay at on vacation. I just missed the evening meal (smells delicious), so they go ahead and assign me my bed with a wink. Top bunk, third floor, three feet from the ceiling, furthest from the window. All the heat in the building converges here. Did they save this bed just for me? I would have. There's clean sheets and a clean pillow case on a very comfortable bed … and a fan. Hot and clean, perfect.
Eighty-one people stayed that night (plus 25 more at Joseph's Residence, the family transitional housing unit). Only the staff know I'm Clothman, Poverello board member, and they don't breathe a word to the clients. Apparently my fame doesn't exist here because I draw about as much attention as a pepperoni at Pizza Hut. Happy with my anonymity, I head out to see what everyone's up to.
A few are in the day room watching the video "Speed 2," but the vast majority are lazily trading life experiences while they smoke on the porch and under the trees in the warm Montana night. Every group I joined welcomed me into their conversation without hesitation. The language was more colorful, the cigarettes more plentiful, and the tales a bit taller than most places, but I couldn't help but enjoy their slower pace of life. Most Americans left this community lifestyle decades ago with the advent of subdivisions, privacy fences and media gadgets.
The only disturbance came from a few loitering drunks. The staff instantly called the police when they got belligerent. "It's those *##$#*'s that give this place a bad reputation, and they're not even clients," most in the crowd echoed. (If you've been drinking, you can't eat or sleep there.) "I hope they haul them to the tank," which they eventually did. How many people who stereotype the homeless would be shocked to hear that?
On cue, everyone quietly dispersed to bed at 10 p.m. They even whispered in the dorms. As in all levels of society, the snorers were the first to fall asleep and the last to wake up … hey, nothing my trusty ear plugs can't handle. However, I was rudely awakened a few times by powerful flatulent outbursts that unmercifully lingered in the warm air … ear plugs provide no protection from these.
I was up at 5:30 a.m., and so were a third of the clients. We had a nice continental breakfast with toast, doughnuts, juice, milk, and of course, lots of coffee in the dining room. By 7 a.m., everyone was gone. Some went to check on jobs they saw in the morning paper, some already had jobs, others just left. I don't know where they were going, and I'm not sure they did either.
Bedroll in hand, I steered my way through the downtown morning crowd. Turns out my adventure at the homeless shelter was no adventure at all. It was like staying in a motel. That might not make for a hair-raising column, but it sure is good news to those who need a safe, quiet, clean place to stay and a nutritious meal to eat. It is also good news for those who support the Poverello Center; it is doing exactly what we all hope and pray it will … fulfilling the call of Christ to care for the poor.
Hey, how about you and me making this more than just a weekly column. Let's share an adventure by sending generous donations to the Poverello Center (or the homeless shelter in your area). I'll even update you on our progress with the Neato Thermometer. Thanks a ton! Please send your donation to The Poverello Center, P.O. Box 7644, Missoula 59807.
Clothman pastors High Point Church in Missoula. You can reach him at P.O. Box 3561, Missoula 59806 or gmoyer@montana.com.