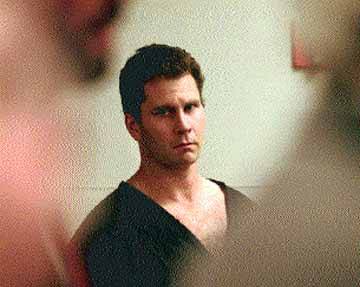 Missoula man embroiled in Las Vegas mystery is no stranger to law enforcement
The September day after Ted Binion died, a handful of Missoula County sheriff's deputies stood around the office talking about a particular paragraph in a news story about the Las Vegas death.
The paragraph mentioned a "close friend" of Binion's, a Missoula man named Rick Tabish.
"I wouldn't be surprised if there's not something funny about that whole thing," mused one deputy.
"If there is, you know Rick's involved somehow," said another.
Some of the deputies had arrested Tabish during his wild years in the mid-1980s. Some merely knew the stories - Rick the burglar, Rick the cocaine dealer, Rick the local tough looking for a fight. Either way, they had a hunch about the case.
That was late September 1998, just a few days after Binion had been found dead of a mixture of Xanax, an anti-anxiety drug, and heroin. Vegas authorities were describing the death as accidental, most likely an overdose by a man renowned for his drug use.
A year later, Binion's death is being prosecuted as a murder. Tabish and Binion's ex-girlfriend, Sandy Murphy, are accused of committing the crime. The alleged motive is money. Binion was worth at least $30 million, and Tabish reportedly needed money to prop up his business ventures.
The genesis of those businesses came in Missoula, where Tabish grew up a privileged son of Lani and Frank Tabish, who started his own business dealings with a service station that blossomed into a prosperous petroleum distributorship.
By all accounts, Frank Tabish gave his children - Frank Jr., Rick and Greg - every advantage a father can bestow. In Rick's case, those advantages created a sense of entitlement that many say did not serve him well.
"He was the rich kid who thought he could get away with everything," Missoula County sheriff's Detective Rick Newlon said recently. "If he got into trouble, his parents were there to help bail him out."
Others have a different view. One Missoula businessman says Rick Tabish is one of the most generous people he's ever known, with "tons of enthusiasm."
For their part, Rick's parents are not talking about their son. Frank Tabish called the Missoulian on Thursday in response to a letter seeking an interview. He asked that the paper not publish this story, or at least wait until the court case against his son progresses further.
"I don't see why you have to do this," Frank Tabish said. "This whole thing is just out of proportion. It's just murdering our family, and I don't see why there's anything left to say."
Tabish said stories about Rick's case have hurt the family. His comments were echoed by Rick's cousin, Larry Tabish, who said the family has been unnecessarily dragged through the dirt because of the Binion case.
"They're a good family and they shouldn't have to deal with this," Larry Tabish said. "I'll just say that I love Rick and I think people aren't really that interested in all this anymore."
Las Vegas is riveted to the story. A television station has aired extensive coverage of a probable-cause hearing that ended Wednesday. Both Vegas newspapers have featured prominent coverage of the case, and the Las Vegas Sun recently sent a reporter to Missoula for a profile of Tabish's hometown roots. The headline: " 'Wild kid' danced around the edge of the law."
Rick Tabish was born March 15, 1965. His family lived off Clements Road near Dale's Dairy. By all accounts, the family lived a good and decent life. Rick attended Big Sky High School, where he played football and did fine academically, former Big Sky principal Darlene Smith recalled.
"He had a real good personality," Smith said.
Tabish ran with his fellow athletes, and was recalled by some of his fellow students as something of a bully.
"He was a kid who was always in fights," said Kim Lucostic, who attended Big Sky at the same time and now teaches there. "He was very much the jock and he was kind of a bully."
Tabish graduated in 1983, then made a brief run at a college education at the University of Montana. He quit after two quarters, UM records show.<</p>
P>Tabish drifted for the next two years. A former girlfriend testified in court years later that while Tabish didn't seem to hold a steady job, he often had a lot of money in his pocket.
Tabish came onto Missoula law enforcement's radar screen in 1984, when he was a suspect in a forgery/theft case. Similar to many of Tabish's encounters with police, the case ended with no prosecution.
By 1985, the 20-year-old Tabish was a regular on police logs. He was arrested for felony criminal mischief in May 1985 for damaging a borrowed car, and briefly was a suspect in a rape case that same month. In July 1985, Tabish pleaded guilty to a misdemeanor assault charge and got a deferred six-month sentence. Beginning in August 1985, he was a suspect in a string of burglaries.
"We investigated a number of cases at that time, but they just had a way of disappearing," said Newlon.
Former Missoula County Attorney Dusty Deschamps prosecuted several cases against Tabish, but agrees that other cases probably were dropped by other attorneys in his office because Tabish or his family paid back the victims.
"That's not an uncommon thing," Deschamps said.
Tabish upped the ante in September 1985, when he stole a controversial painting from the home of his attorney, Milt Datsopoulos, who was representing him on the criminal mischief charge.
The stolen painting purportedly was a 17th century work titled "Rebecca at the Well," by Nicolas Poussin. Questions arose later about the painting's authenticity - it was part of an old collection of paintings thought to be forgeries - but at the time of the theft, it was valued at $600,000.
The painting later was turned over to a deputy county attorney and Tabish was charged with burglary in December 1985. The case, along with the criminal mischief case, languished until 1987, when Tabish was arrested for cocaine trafficking. Indeed, the case had never been transferred to District Court, where felony cases are prosecuted.
"That case was basically buried," Newlon said. "The drug case is what brought the burglary back."
The drug case came up in February 1987, when Tabish and two other men, Francis "Frank" Behr and Kevin DeMeritt, were arrested for shipping a quarter-pound of cocaine from Arizona to Missoula via Federal Express. DeMeritt was arrested on the Missoula end of the deal, while Behr, the son of a top state Department of Justice official, and Tabish were picked up in Arizona.
"For some time before the bust, we'd been getting information that Tabish and some friends were selling cocaine all over town," Newlon said. "Around Christmas of '86, we were hearing that a lot of the dealing was being done out of a house that Behr had on North Avenue. They'd get people over there and show them what they had. It was like recruiting for Amway."
By February, detectives knew that packages had been delivered to Missoula via Federal Express, and that on at least one occasion a man who called himself Ed Dixon had signed for a package. That man was Rick Tabish.
Behr and DeMeritt eventually pleaded guilty to cocaine charges and received deferred sentences. They also agreed to testify against Tabish. That agreement led Tabish's attorney, Mike Sherwood, to argue that Deschamps had singled out Tabish for stiffer punishment.
"And that was right," Deschamps said recently. "He had a criminal record that they didn't have. I felt like he was ready for prison."
While Tabish's cocaine case was pending, he was arrested twice for assault, including the beating of a man at a Brooks Street restaurant in November 1987. Although the case was eventually plea-bargained down to a misdemeanor, Tabish and another man at one point faced an aggravated assault charge for fracturing the man's eye socket.
In addition to the assault cases, Tabish also pleaded guilty to burglarizing Datsopoulos' house. He got three years on probation, but more importantly, he finally had a felony on his record. That conviction made it possible for Deschamps to argue for a prison sentence when Tabish eventually pleaded guilty to the coca
"Tabish is a classic example of an arrogant rich kid who has been able to commit numerous crimes with almost complete impunity because his father has been able to buy his way out," Deschamps wrote in court records filed in the cocaine case.
In December 1988, District Judge Jim Wheelis sentenced Tabish to 10 years in prison with seven years suspended. Tabish's father told the judge his son didn't need to go to prison, but Deschamps argued that Tabish had had enough chances.
To this day, Frank Tabish won't talk to Deschamps.
"If he sees me coming, he goes the other way," Deschamps said. "I don't really have a strong feeling toward him, but he certainly took it personally."
It took him nearly four years, but Rick Tabish finally had earned his way through the doors of the Montana State Prison.
He didn't stay there long. Tabish spent nine months in prison and a prerelease center in Butte, then got paroled. Tabish spent the next few years on supervised probation, but also got a big break when he went to work for Marvin Rehbein Sr.'s rock-crushing business. Meeting Rehbein led to two positive developments for Tabish. He started to learn a business and he met Rehbein's daughter, Mary Jo, whom he later would marry.
By 1992, Tabish started a series of businesses, the first of which was Wash Works, a truck-washing business at the Wye. He also opened a telecommunications business called Telepro and, finally, MRT Transport, a trucking and hauling company.
Tabish's idea to expand his trucking company's business led him to Las Vegas in 1997, the year his probation ended.
In an interview with the Missoulian a few days after Binion's death, Tabish described his various businesses as successes. The record, however, suggests that Tabish has struggled with his businesses.
He'd bought out a partner at Wash Works, then quit paying his former partner the $1,500 a month. The Internal Revenue Service claimed Tabish owed more than $337,000 in employee withholding taxes for 1997.
Tabish took out a $200,000 loan from BankWest of Nevada to bolster his Las Vegas trucking company, MRT Transportation of Nevada. The loan was due two days before Binion was killed, but it wasn't paid off.
Finally, First Security Bank in Missoula currently is foreclosing on Tabish's house on Buckhorn Lane, and the property is on the market for $344,000.
Tabish sold his businesses to a Los Angeles company two months after Binion's death. The company paid $650,000 in cash and assumed $3.1 million in debt, Nevada court records state.
Tabish made it clear in the September 1998 Missoulian interview that he hooked up with Binion in an effort to secure financing for his business ventures. Binion, whose family owned Binion's Horseshoe Club, recently had been drummed out of the gambling business because of chronic heroin use and his association with a Chicago gangster known as Fat Herbie Blitzstein.
Tabish said he needed money. Binion wanted to get involved in some legitimate businesses to rehabilitate his tarnished reputation with state gambling regulators.
"He's wanting to get a new start and get involved in reputable business," Tabish said at the time. "And that's what I'm running."
Not according to Las Vegas authorities. In addition to charging Tabish with murder, they've also charged him with kidnapping, assault and extortion for allegedly torturing Leo Casey into turning over to Tabish his interest in a sand pit in Jean, just south of Las Vegas. Casey testified in the preliminary hearing that Tabish and Steven Wadkins beat him repeatedly with a phone book, shoved a knife under his fingernails and threatened to bury him alive in a shallow grave. Casey also has told investigators that Tabish had previously discussed killing Binion.
According to a 109-page affidavit filed in the murder case, Tabish also talked to a Missoula friend, Kurt Gratzer, about killing Binion. Gratzer and Tabish had been friends for years, and Gratzer had worked for Tabish in Missoula. The men allegedly discussed a variety of methods of killing
Binion, including a sniper shot and a drug overdose.
Gratzer ultimately opted out of the purported plan, and he has been granted immunity in the case in exchange for his testimony. Gratzer also signed an agreement forbidding him to discuss the case with reporters.
He did, however, discuss Tabish's plan with other people in Missoula. One man, who also is acquainted with Tabish and Murphy, told the Missoulian recently that Gratzer told him days before Binion's death that Tabish had asked him to kill "somebody in Las Vegas."
"He said Rick was trying to come up with a plan to kill this guy, and he was asking Kurt about ways they could do it," said the source, who has been interviewed by Las Vegas detectives and a private investigator working for Tabish.
The source said he didn't think much of Gratzer's comment until Ted Binion showed up dead.
"Then I was like, 'Whoa,' " the source said. "I remembered that Kurt had said, 'I ain't doing that.' But somebody had."
The source said he never heard any direct statement from Tabish or Murphy about a murder.
What the source did hear was plenty of confirmation that Tabish and Murphy were having a sexual affair.
"It was clear they were having a relationship," the source said. "They talked about the sex a lot."
Vegas authorities have worked to show a romantic link between Murphy and Tabish, believing such a link bolsters their argument that the two were out to get Binion's money, including $4 million in silver Tabish is accused of hauling away from Binion's underground vault in Pahrump.
Las Vegas didn't work out the way Rick Tabish planned. Instead of making millions, he wound up selling his businesses. Instead of hobnobbing with movers and shakers, he's locked in jail, accused of killing a disgraced gambler. Instead of moving his wife and children to Las Vegas, his house is for sale and he has been linked to Murphy, a former topless dancer. And he's but nine days away from a decision from Justice of the Peace Jennifer Togliatti, who will rule Sept. 13 on whether prosecutors have enough evidence to take Tabish and Murphy to trial for Binion's murder.
The sheriff's deputies who read the story about Binion's death last September will tell you they aren't surprised. Dusty Deschamps isn't shocked by the allegations of theft, extortion and even kidnapping, but he was taken aback by the murder charge.
"Most of that stuff doesn't surprise you in the least," Deschamps said. "It just seems like where he was going. But homicide, I wouldn't have thought he was really capable of that."
A successful businessman who has been friends with Tabish for more than a decade said he can't reconcile the Vegas stories with what he knows about Tabish.
"What I know of Rick, he's one of the most generous people I've ever known," said the man, who asked that his name not be used because he feared doing so might harm his business. "He's a go-getter of a guy, with tons of enthusiasm for new ideas. He's got a silver tongue. He's probably the best salesman in town. I don't really know this other side of him."
Others do. Dan Tabish is Rick's cousin by marriage rather than blood. He feels badly for the Tabish family, particularly his parents, but he's not surprised by the Las Vegas allegations.
"I wouldn't put it past him," Dan Tabish said. "If somebody told me Rick was doing any given thing, I'd be willing to believe it. But I feel for his parents. No parent should have to go through this. At some point, though, they might have to say enough is enough."
Frank Tabish has not reached that point yet. He reached out in an effort to help his son in a phone call to the Missoulian.
"Why don't you guys just give him a chance?" Frank Tabish said. "Just give him a chance."