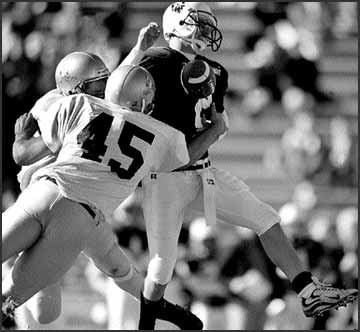 OGDEN, Utah - If it turns into a track meet, Weber State will be in trouble.
Odds are it won't be a track meet when the top-ranked Montana Grizzlies hook up with No. 19 Weber State in a key Big Sky Conference football game Saturday. Montana and Weber State have the top two defenses in the league. And a low-scoring game suits the Wildcats' offense just fine.
Weber State averaged just 24.4 points per game and doesn't take many chances. Senior quarterback Cole Cooper has stepped up his game, completing 60.4 percent of his passes for 2,122 yards and 19 touchdowns. Last season, Cooper completed 53 percent of his passes for 1,829 yards and 13 touchdowns.
"You can see how much time he's invested in becoming a good quarterback," said Weber State coach Jerry Graybeal. "It was more mental than physical. He's worked hard in the classroom and done a good job with what we are trying to do with this offense. He's making much better choices and letting his physical ability show."
Tight end Ryan Prince and wide receiver Jon Jefferson are two players the Grizzly defense must contain. Jefferson, a 6-foot-2, 210-pound senior needs 86 yards to reach 1,000. He has six touchdown catches and is a big-play threat. Prince, a 6-foot-5 senior, has 47 catches for 591 yards and six touchdowns.
"Prince helps with their ball control," Montana coach Joe Glenn said. "He does a good job of making the short catches and he's able to rumble for some extra yards.
When Weber State beat Portland State, the Wildcats did it with ball control. Cooper completed 25 of 30 passes in the win.
More snow is expected Saturday afternoon in Ogden. It snowed early Friday morning, but it was clear and sunny Friday afternoon.
The field at Stewart Stadium was covered Tuesday. Roughly three inches of snow remained on the field late Friday. It will be cleared Saturday morning.
"It should be in good shape," Graybeal said. "After the first year I was here we hired a guy to do nothing but take care of the field. The field should not be a problem."
The Griz practiced in the snow Wednesday and Glenn said he was pleased with the way his team responded to the inclement conditions.
"I think the kids can smell it and they know what's its going to be like," Glenn said. "They know they needed to work in it and prepare for it."
It's hard to gauge how big the crowd will be on Saturday. Only Cal State Northridge has drawn fewer fans in the Big Sky. An average of 8,816 fans have attended Weber's home games this season, roughly 5,500 more than Northridge.
When Weber upset Portland State three weeks ago, just 4,879 fans watched. Last week, 3,929 attended the Wildcats' win over Division II Western New Mexico.
The school is running a ticket special for Saturday game. For $20, a family of six can attend. The Weber State campus is plastered with purple-and-white signs with "Beat Montana" scrawled across them. When Montana played here in 1998, 16,954 fans showed up, the second-largest crowd in stadium history.
The crowd should be bolstered by a large Montana contingent. Utah also is playing at Wyoming and Utah State is at Boise State. Brigham Young has the week off.
Several Brigham Young players and coaches are expected to attend. UM has three BYU transfers: quarterback Drew Miller, receiver Michael Westbrook and linebacker Dan DeCoite.
"All my friends from the Cougars are coming to watch me, Drew and Mike play," DeCoite said. "I know some of the coaches are going to come up and watch. There's not much to do in Provo, so they are coming up to watch a Weber football game."
Injury update: Montana will be without senior receiver Tanner Hancock, who suffered a hamstring injury last week in practice. Hancock played during the first quarter of last week's win over Idaho State, but left after catching one pass. Look for juniors T.J. Oelkers and Westbrook to pick up Hancock's reps.
Glenn said cornerback Damon Parker will be available, but junior college transfer Demetrious Williams probably will get the start. Parker bruised a shin last week and missed the entire second half.
Reserve senior running back Ben Drinkwalter will be available. Drinkwalter re-aggravated a shoulder injury early last week against Idaho State and didn't return. Drinkwalter missed three games earlier in the season. Glenn said Drinkwalter won't cause more damage by playing, it's a matter of withstanding the pain.
Senior Leif Thorsen will be back at right guard. Thorsen missed three games with an ankle injury. Freshman Jon Skinner played well in Thorsen's absence.
With the exception of the running back position, Weber State is healthy. Highly-touted JC running back Johnnie Gray is expected to play. He's been slowed by an ankle injury in recent weeks. Gray's backup, Jordan Miller, sprained an ankle last week, but is expected to play. If neither Gray nor Miller can go, George Patterson will get the nod. Patterson rushed 21 times for 152 yards last week against Western New Mexico.
This marks the second time in the last nine seasons that Weber State has faced the top-ranked team in the nation. In 1991, Weber State led No. 1 Nevada 49-14 with 12 minutes left in the third quarter. Nevada rallied for a 55-49 win.
In 1994, Weber jumped out to a 20-7 first-half lead on second-ranked Montana. Led by four touchdown passes from Dave Dickenson, the Griz rallied for a 35-20 win. The Griz moved to No. 1 the following week.
On Thursday, Montana athletic director Wayne Hogan and Northern Colorado athletic director Jim Fallis completed a deal that will bring the Division II Bears to Missoula for a non-conference contest in 2002.
Glenn coached Northern Colorado for 11 seasons, guiding the Bears to a pair of Division II national titles. Assistant coaches Mike Breske, Harvey Patton, Chris Knutsen and Ron Wisniewski also have ties to Northern Colorado. The game is scheduled for Sept. 14, 2002.
Be the first to know
Get local news delivered to your inbox!