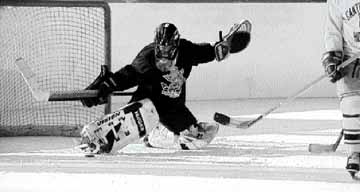 After battling on turf, track and hardwood floors for most of the past century, the University of Montana and Montana State University will move their rivalry to the ice Friday and Saturday when hockey teams from the two schools face off in Missoula for the first time in conference play.
The UM Fighting Griz and the MSU Bobcats are the two newest members of the Rocky Mountain Collegiate Hockey Association, a Division II level league that adheres to NCAA rules but does not offer scholarships to players. The two fledgling RMCHA members will play Friday at 9:30 p.m. and again Saturday at 7:30 p.m. at Missoula's Glacier Ice Rink.
"We're looking forward to it," said Justin Clausen, a sophomore from Helena who serves as president of the UM Hockey Club. "Hopefully we can let the public see what college hockey's all about."
Other teams in the conference are the University of New Mexico, the University of Utah, Utah State, Weber State and the Provo IceCats, a team made up of players from Brigham Young University. UM will play a 12-game schedule, six at home, against all conference members except New Mexico. Travel costs prevented a UM-New Mexico meeting this season, but the two teams could play in the RMCHA tournament in February at Weber State. Because of semester break, UM will face a two-month mid-season break, with no league games scheduled between Dec. 5 and Feb. 5.
Moving into an organized conference is a big step up for UM hockey. While UM has had an ice hockey club for years, previous versions of the team, known as the Flying Mules or the Bruins, played loosely organized schedules without any conference affiliation. The biggest holdup was the lack of a suitable ice rink in Missoula. Pretty much all games were played out of town at the players' expense.
But last year, when volunteers from the Missoula Area Youth Hockey Association built the Glacier Ice Rink at the Missoula County Fairgrounds, the local interest in skating and hockey at all levels boomed. It also opened the door for the Fighting Griz to play home games.
"We used to call up whoever was available to try to find ice time," said Eric Penn, in his second season as coach of the UM team. "Last year was the first time in a long time we had home games. The ice arena made our participation in a league a reality."
Clausen said the Fighting Griz, who are not affiliated with the UM athletic department, looked at different collegiate conferences in the West before settling on the RMCHA.
"The main reason we went for the RMCHA was that for the past two or three years, they had the No. 1 team coming out of the West," Clausen said. "We thought we might as well jump in with the toughest competition."
The RMCHA was also eager to expand into Montana, according to Joe Bernardy, the Utah-based commissioner of the 5-year-old league. He said the success of the junior level Frontier Hockey League in Montana cities such as Billings, Helena and Bozeman piqued the interest of RMCHA organizers.
"If the hockey interest is there, we wanted to give them another step up the ladder," Bernardy said. "We wanted to go north instead of south. We're hoping by joining a league, it will give hockey some notoriety in Montana. There will also be some known schools coming up there like Weber State."
You have free articles remaining.
Bernardy said the caliber of play in the league is strong, featuring players with college, junior and high school experience. He said the league adheres to NCAA rules and requires all players to carry at least a 2.0 grade point average and take no fewer than nine credit hours per semester. Each team can submit a roster of 25 players. The rosters can be changed after the semester break.
"We operate as an NCAA program, but the big difference is we have no scholarships," Bernardy said.
While UM has yet to play a game this season, both Penn and Clausen expect the Fighting Griz to be competitive in the league.
MSU, which did not even field a team until this year, opened its schedule last month in Utah, beating Utah State, 5-3, and losing to Utah, 11-9.
mpete pretty well," Penn said. "Most of the guys have played extensive hockey. They're all ex-high school and midget players."
Penn, who played and coached college hockey at the University of Illinois from 1990-94, said he was impressed with the caliber of play when the Fighting Griz held tryouts last month at the indoor ice rink in Helena. All but four of the players on the UM roster come from out of state, primarily from the East Coast, Minnesota, Alaska and Canada.
A dozen players return from last year's UM team, which went 4-3 in non-conference play, including three wins against Washington State University, the No. 2 team in the Pac-10 hockey conference.
Among the top returnees are Jon San Marco, a forward from New Jersey who led the Fighting Griz in scoring, and R.J. Portmann, a center from Alaska who was the team's second leading goal scorer.
On defense, Clausen said things are less stable, with the team's top four blueliners gone from last year. He said the top returnees on defense will be Blair Simpson and Malcolm Robertson, who both come from Colorado.
In net, Clausen said UM has a trio of solid goaltenders. Tom Baker, a newcomer from Minnesota, will join returnees Tom Campbell, from Alabama, and Chris Williams, from New Hampshire.
"They're all pretty good goalies," Clausen said. "If we can mold a core of defensive players, we definitely believe we can be the top team in the conference, if not in the West."
While UM should be competitive on the ice, it may have a tougher time off the ice in a conference that features teams with budgets of $50,000 to $60,000.
Clausen said UM will try to get by with a budget of about $10,000. UM student government has kicked in $3,000 and each player pays a team fee of $150 per semester. The rest of the budget, which pays for ice rental, uniforms and lodging, will be raised through fund raisers and gate receipts from home games. Anyone interested in sponsoring the Fighting Griz should call Justin Clausen at 543-3691.