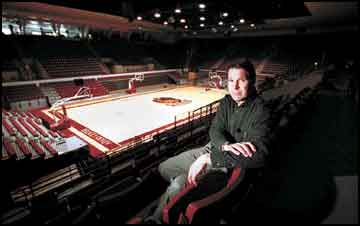 Federal wildlife officials were attempting to trap wolves in the Ninemile Valley on Thursday after three llamas were killed by wolves two days earlier.
A field officer with the U.S. Agriculture Department's Wildlife Services confirmed Wednesday that wolves killed the llamas on a farm owned by Earl and Val Masters in the lower Ninemile drainage, according to Joe Fontaine, Montana wolf project leader for the U.S. Fish and Wildlife Service.
The llamas that were killed were valued at $700 apiece, according to Val Masters. She said she and her husband are filing a claim for compensation with the Fish and Wildlife Service. The couple owns five other llamas, she said.
This is the first time the Masters have had any problem with wolves bothering their livestock since moving to the Ninemile in 1989, Val Masters said. The couple's farm is located about 1 1/2 miles up Ninemile Creek on Remount Road.
The incident this week wasn't the first time wolves from the Ninemile pack have attacked llamas, however, Fontaine said.
"Last spring they killed two llamas in the Ninemile," he said. "We removed a couple of wolves from the pack then, and thought we had removed the problem. But obviously, there are one or two left that still like to kill llamas."
Wildlife Services field officers plan to trap and kill those remaining offenders, Fontaine said. The Ninemile pack's numbers fluctuate from season to season, he said, and it now has an estimated 11 to 13 wolves.
"We try to nip this in the bud," said Fontaine, "because if they start teaching other wolves in the pack to kill livestock, you have a recurring problem."
The killing of the llamas this week came just several days after federal wildlife officials received a report of wolves killing a Ninemile resident's Labrador retriever.
"Wolves are very territorial," said Fontaine. "That happens when people live near wolves. But most people in the Ninemile are aware of it. There aren't a lot of stray dogs or cats in the Ninemile."
The presence of other wolves in the Ninemile vicinity was confirmed last month when a large male wolf from the Fish Creek pack was killed by a logging truck, Fontaine said.
The Masters "did exactly the right thing" after seeing that predators had killed their animals, according to Fontaine.
"The best thing to do," he said, "is cover the carcass with a tarp, cover any tracks with a coffee can, and stay away until you're contacted by Wildlife Services. Then they can confirm or determine what kind of predator it was."