Sometimes, the "ick factor" is irresistible.
Being a serious, responsible reporter, I usually try to avoid excessive gore or scatological references in my writing. But sometimes — especially during Halloween season — those details are just too good to pass up.
Last Wednesday, for instance, I was on the deck of the research vessel Jessie B. in the middle of Flathead Lake, watching as UM scientists prepared a sample for testing. Two thousand gallons of lake water had been filtered through a net, and every sediment particle, algae fragment, and crustacean larvae was swirling inside a sample jar. As I wondered how to describe it, I heard Caroline Maughan, the scientist who would test it, pipe up.
"Occasionally I'll get a note that says, 'It looks like diarrhea, heads up.'"
She and others started to shake their heads in dismay as I copied it down; I assured her it was a good quote. And the willingness of Maughan and her colleagues at the Flathead Lake Biological Station to gather and test these unappealing samples is vital to Montana's fight against aquatic invasive species. If zebra or quagga mussels reach western Montana's waters and aren't contained, the results will be far uglier than a tinted water sample.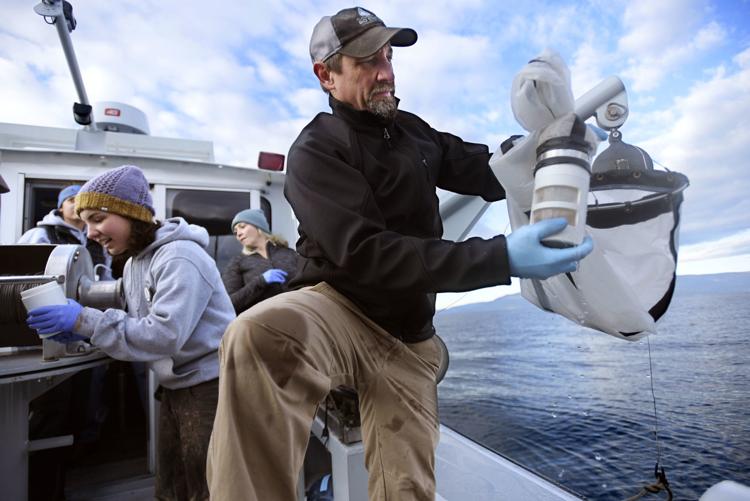 The skies, too, have their ugly side. On Friday, photographer Ben Allan and I went out to the Wild Skies Raptor Center for a Monday's Montanan feature on Brooke Tanner and Jesse Varnado. Injured raptors, they told me, can put up quite a fight, but a great horned owl was remarkably stoic as Brooke pulled a bloodstained surgical dressing out of a wound the owl had gotten from another raptor. When I heard my crime-novelist editor shout "ew!" upon reading that episode, I knew I had chosen well. Birds of prey fared no better on the football field Saturday, when the Grizzlies beat the Eastern Washington University Eagles 34-17.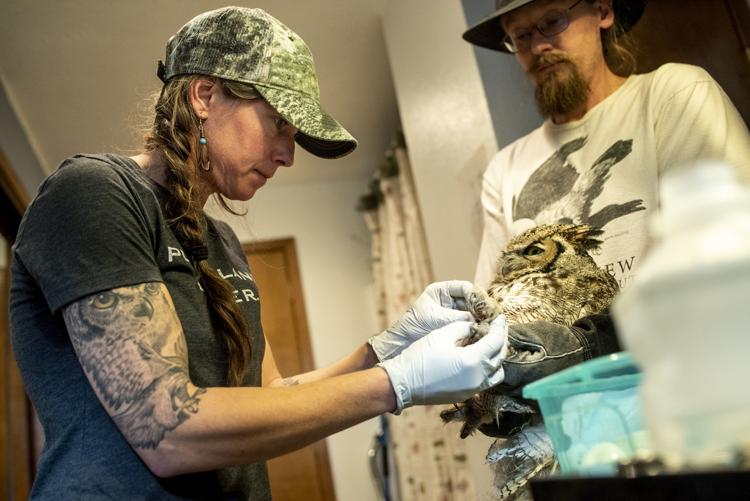 In a more hardcore Halloween story, early Friday morning the University of Montana police department announced someone had reported a black-clad assailant "came up behind him, tackled him, placed his hand over his mouth and drug him into a doorway. The unknown male held him there until he was able to strike him and escape." A colleague has some doubts about this story, but we'll keep following it.
Closure has been reached in the case of Holly Truitt, a former UM program director who was found to have improperly spent $6,200 of university funds. She said a neurobiological disorder kept her from filing her paperwork on time — but said she would repay the full amount.
On the lighter side, my former employer, the Daily Inter Lake, had a story about UM alums Gage Smith and Alex Mustard, who are mounting a long-shot, crowd-funded bid to make the 2022 U.S. Olympic Bobsled Team. Both the financial and physical obstacles are daunting, said Smith, originally from Whitefish, but UM prepared him well in one respect.
"There's some guys here who are from Texas or South Carolina," he told the Inter Lake. "Especially playing football at the University of Montana, those late-season practices or playoff practices, that's some cold weather we're practicing in. We'd practice in the evenings, you're practicing and it's pitch-black out ... Those are some brutal ones."
Despite the cold, have a happy Halloween.
Stay current on the University of Montana and other higher education news in Montana with the Missoulian's weekly email, Under the M. This newsletter will land in your email box mostly on Tuesdays. Got a news tip? Want to hear more about something at UM? Missoula College? The Commissioner's Office? Shoot a note to patrick.reilly@missoulian.com. My colleague Matt Neuman has also started a newsletter on Missoula city and county government, which he entitled "Urban Scrawl" after much debate. Thank you for reading, and please sign up here if you'd like to subscribe.