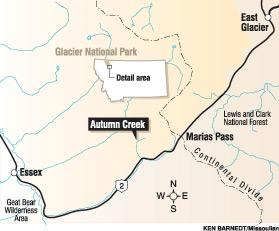 WEST GLACIER - It might seem a bit counterintuitive, here beneath big peaks in the Big Sky, but if you're looking for Montana's big autumn colors, you might want to seek out fall in the small.
New England, of course, is awash in an endless sea of fabled hardwood forest, burning brilliant each year about this time in a riotous splash of color.
In Montana, where evergreen darkens the wood, the same rich palette paints the landscape, but to find it here you must often look very deliberately down, not so casually up.
There is, by way of small example, no regal purple quite so royal as that of the wild strawberry, an autumn leaf made no less vividly violet for its tiny size. Just as its petite wild berry packs so much more flavor than its fat and fleshy domesticated cousin, so does the native strawberry's fall color surpass even that of the mighty Eastern oak and maple, yet on its own Lilliputian scale.
Each fall, their red carpet ushers hikers onto Glacier National Park's Autumn Creek Trail, a footpath well-named and worth the walk this time of year.
Unless you're looking closely, it can be a bit tough to find - not unlike the fall colors themselves n but for those willing to pay the price of attention, the trail is its own reward, a gallery of wonderful and unlikely hues.
Grab a park trail map and step out of your rig just west of mile marker 194 on U.S. Highway 2, not far from Marias Pass, and cross into Glacier where the serviceberry leaves look drenched in merlot, and rose bushes blush rose.
Here, as you hike toward the pass, you'll find fireweed and cinquefoil, huckleberry, bunchberry, dogwood, mountain ash all dressed in their bright autumnal wardrobe, one last gaudy party before the bleak monotone of winter. Amid the dying blush of color are snow-white snowberries, rosehips swollen fat and red, a few purple huckleberries, dry serviceberries a darker shade of plum.
Look closely, and there's life here, too. Lupine still blooming, sharing space with goldeneye and goldenrod, harebell and bluebell, sagebrush and rabbit brush, late season flowers not ready yet to give up on a summer all too short. They seem all the more dazzling and optimistic in the knowledge that their days are numbered, that there's no stopping the orbit of the Earth around the sun, no righting the 23.5-degree tilt that's changing the length of the day, softening the quality of light, bringing the chill of autumn, spinning the cycle of the seasons.
It all combines, here in autumn, to change the way water flows through leaves, to change plant metabolism, to increase carbohydrate levels in every leaf and stem. Chlorophyll production drops and the green bleeds away, revealing the pigments that have hidden, all this time, just beneath the surface.
The orange of carotene emerges, alongside the red of anthocyanin, blending with yellow xanthophylls. All mix with brown tannins to turn the red-osier redder, the rose leaf rosier, the aspen a shining, shimmering gold even Midas never imagined.
Of course, you need not be on Autumn Creek. Any creek in autumn will do, so long as you bring with you an appreciation that size doesn't always matter, and that what's beneath your feet is most certainly not beneath your attention.
Be the first to know
Get local news delivered to your inbox!