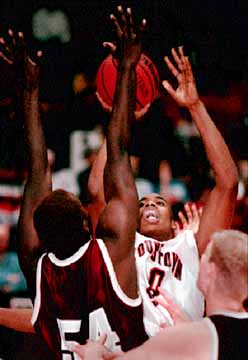 Junior guard drills 3-pointer at buzzer to send game into overtime where Griz prevailYOUNGSTOWN, Ohio - Guard Mike Warhank hit his weekly 3-point buzzer-beater to force overtime, and Montana made all the free throws it needed after that as the Grizzlies ran their winning streak to four Saturday night with an 81-74 victory over Youngstown State.
It was UM's first honest-to-goodness road win under interim coach Don Holst, and it came without injured guards Kyle Keyes and Eric Bowie. The Grizzlies take a 6-4 record into a short Christmas break.
"What a Christmas gift for the kids," an exuberant Holst said after UM extended its streak of overtime victories to six dating back to December of 1994.
Matt Williams scored five of his 12 points in overtime and Mat Seidensticker had four. Seidensticker finished with a season-high 16 points to lead five Grizzlies in double figures.
Warhank was one of those five, but he had managed only three points before he nailed a 3-pointer with 4:18 left in regulation. That started an assault on Youngstown's biggest lead of the game, 12 points.
Warhank had 10 of UM's 15 points in the rally that tied the game, then hit both of his free throws in the extra period to finish with 15.
The 6-foot-3 junior's biggest shot came after the Grizzlies, trailing 65-62, played the ball in with six seconds left. Cory Reiser took the inbound pass and dribbled to the middle, then found Warhank coming off a screen on the right wing. It was nearly the same spot from which Warhank launched a dramatic three to tie Saint Mary's last Friday in the Butte Civic Center. The Grizzlies went on to win that game 67-60 in overtime.
Last week's was a bank shot. Warhank swished this one, but it too came under heavy pressure.
"It definitely wasn't a clear look," Holst said. "We tried to curl (Warhank) back and they switched out with a big guy. He had to fade back, so to speak, to get it off."
Junior point guard Albert Crockett scored two of his game-high 23 points to give Youngstown State (3-6) an early overtime lead and revive the deflated crowd of 1,023, who were watching the Penguins' second home game of the season.
Montana missed a layup and turned the ball over on a pass inside on its first two possessions of the extra period, then scored nine of the last 10 times down. The Grizzlies did most of their damage at the free-throw line, sinking 10 of 13 in overtime after they got a lead. A 3-pointer by Youngstown State's Craig Haese chopped UM's lead to 77-74 with 53 seconds left, but the Penguins missed trey attempts the next three times down.
Reiser made one of two free throws with 35 seconds to go, then Bob Olson canned a pair with 18.5 ticks left to make it 80-74.
For much of the game, the quicker Penguins gave Montana shooters and ballhandlers fits. The Grizzlies started freshman Shane Christensen at point guard in the absence of Keyes, who'll miss at least two weeks with a sore shin, and Bowie, out until after Christmas with an ankle injury.
Montana had 11 turnovers in the first 21 minutes before Reiser, playing with a sore knee, helped stabilize things. It finished with 18. The Grizzlies were shooting below 40 percent until their late-game rally. They made seven of their last nine field-goal attempts.
Montana held guard DeVon Lewis, Youngstown's leading scorer and lone senior starter, to just four points on 1-for-9 shooting from the field. Sophomore forward Desmond Harrison, the Penguins' best player at the KGVO/Montana Power Classic in Butte last week, had just six points and two rebounds.
Crockett, a junior college transfer averaging just 7.4 points going in, was the one Penguin who got away from UM. He reached double figures for just the second time, and converted all 10 free-throw attempts.
UM's defense had much to do with its late-game heroics. Holst unveiled a half-court trap for the first time this season, and it led directly to two quick turnovers at the start of Montana's rally in the final 4Þ minutes. Seidensticker had four steals in the game, and Holst said Christensen's quickness and long arms came in handy in the trap even if the freshman struggle
They Grizzlies had 43 rebounds to Youngstown State's 35, although that margin shrunk somewhat after halftime. Williams had 12 rebounds, his single-game high but the fourth time in 10 games he's been in double digits.