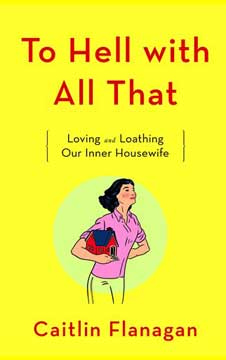 "To Hell With All That: Loving and Loathing Our Inner Housewife." By Caitlin Flanagan. Little, Brown. 244 Pages. $22.95.
A most astonishing moment in Caitlin Flanagan's new book comes when she describes her relationship with her personal organizer. No, not the paper kind or the computerized version - a human personal organizer, a woman who helps Flanagan figure out how to unclutter her house.
By that point the reader has learned that Flanagan is an "at-home mother" who nonetheless has relied on nannies and maids. Can't she do anything by herself?
"To Hell With All That" is the latest addition to the tired debate about which is better, the stay-at-home mom or the one who goes out to work.
Flanagan's contribution, which primarily sympathizes with the mothers who stay at home, is largely a repackaging of articles she's written for magazines. Yes, Flanagan is a staff writer for The New Yorker, which apparently doesn't count as a job.
Flanagan believes it's important to keep the sexual spark alive in a marriage, and that there's no shame in a woman being available to her husband. She points out that many women enjoy cooking and housework, enough so that Martha Stewart has made the fortune of a small country.
She devotes space to describing her feelings of guilt upon realizing she should take care of her nanny's Social Security benefits, a point underpinning a broader theme that the current mother-nanny relationship is that of mistress-servant and a result of the collapse of the Third World.
She describes the over-scheduling of today's children, questioning if it's more about the children's needs or the mothers' social status aspirations. And she tackles other topics, including personal subjects such as her breast cancer.
While short on hard data and statistics, Flanagan also manages to treat readers to a historical review of sorts, describing the wifely musings of writer Erma Bombeck, for instance, and the social psychology behind "Mary Poppins."
Flanagan has a flair for pretty writing, but perhaps she should stick to short, one-theme magazine stories.
Her book is so wishy-washy and incoherent that the reader desperate for a point will at best come away with the notion that "Life is complicated for women who have kids and want to work."
But what really hurts the book is that the person writing it shouldn't be using herself as an example.
Flanagan leads a privileged existence. She can stay at home - and get an income from writing - while affording household help. She's also quite dismissive of the truth that for many poorer women, working is not a choice but a must.
Furthermore, her book barely grazes a huge element of this endless debate: the role men play in the schedules and routines of today's families. Her husband, a company executive, isn't much of a presence in the book.
Toward the end, Flanagan describes how she felt when her mother, a dutiful housewife who grows tired of having to beg her husband for money, decides to go back to work. "I alone of all the household was truly miserable," Flanagan writes. "To my thinking, my mother's change of heart constituted child abandonment, plain and simple."
That's when it becomes clear that at its mangled core this book isn't about feminism vs. antifeminism or working women vs. housewives. This book is about the personal needs and privileges of one Caitlin Flanagan.
And for most women her story is not even remotely instructive.
Be the first to know
Get local news delivered to your inbox!