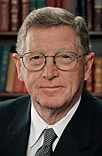 Hearkening back to the beginning of Medicare and the confusion that followed that, Montana Sen. Conrad Burns said Thursday he thinks the enrollment process for the new Medicare Part D prescription drug coverage program is going "pretty good."
With the Monday enrollment deadline looming, Burns said his figures indicate about 65 percent of eligible Montana seniors have signed up for the voluntary program, slightly below the national percentage.
"We've tried to get as much outreach to our senior community as we possibly could," Burns said. "I would suggest that everybody who can qualify for this program should go down and get their information and enroll."
Burns agrees with President George Bush that the deadline should not be extended. Some critics have said that the large number of available programs - Montana has some 17 organizations offering 41 different plans - have made the process too confusing for many seniors.
Burns said despite news coverage to the contrary he's heard from many seniors who are glad they signed up.
"The plan is coming in and costing a lot less than we first figured because of the competition in the market," Burns pointed out, noting that's what it was hoped competition would mean. "I realize in some areas it's rather confusing, but there are resource centers now that will help you, and (the) Medicare (office) will help you."
Burns said whenever he visits Montana he runs into seniors who are already enrolled and receiving benefits from Part D.
"They're telling me," Burns said, "especially my low-income friends that have retirement and that's about all, that 'it just saved my bacon.'"
Burns cited an individual in Missoula who was taking an experimental cancer drug, "the only one that worked in his case." The senator said when the drug was removed from the experimental list it began to cost the man $4,000 a month.
"As much as he can pay on this plan is $3,600 a year," Burns said.
Burns said concerned seniors can be walked through the program when they provide a list of their current prescriptions and a Medicare card, and begin saving immediately while paying as little as $2 per month.
No one anticipated 100 percent enrollment because it was assumed some people would fail to enroll for one reason or another, or decide to continue whatever coverage they already had. Others might not need the benefit because they take no prescription drugs.
"That's why we made it voluntary," Burns said. "They should stay with their plans that they're happy with.
"This was designed really to help our low-income seniors," Burns added. "They were the ones that were faced with the choice of either paying their electricity bill or buying food or buying their prescription drugs."
"I don't think you can ever come out of Congress with a perfect plan," Burns said. "But we'll hear about the glitches, we'll fix those glitches as we go along. But to be a brand new program and be as big as it is, 65 percent (enrollment) is pretty good."
Tinkering time will come between May 15 and the next enrollment cycle starting in November. Current enrollees can change their plan then. Those who didn't sign up the first time will have another chance, although they will have a one percent per month surcharge attached to the plan they choose.
"Especially to our low income seniors, this is a god send for them," Burns said. He also said the new program should take going to Canada for cheaper prescription drugs "out of the rhetoric" because "some of these plans are very, very good."
Burns also said he can relate to those who are confused or simply reluctant to sign up for the new program.
"Some of us who fall in that category of senior citizens, we're reluctant to change much," he said. "I've got my life set and anytime my kid says, 'you've gotta change over,' I'm reluctant to do that."
For more information: Missoula Aging Services, 728-7682.
Be the first to know
Get local news delivered to your inbox!